Play 1 – Playbook for Morrisville
PLAY NUMBER ONE: Establishing Morrisville as the Number One Destination for Technology and Life Sciences/Pharmaceutical Companies and Entrepreneurs in the State and Nation.
Over the past few years, we have had tremendous success in both recruiting and retaining the top technology and life science companies to Morrisville.   10 percent of all Public Companies are headquartered in Morrisville, many of them are tech and pharma.
Last year the Triangle Business Journal listed the top 99 Public Companies in North Carolina, and 10 of them are headquartered in Morrisville.
#8 Syneos Health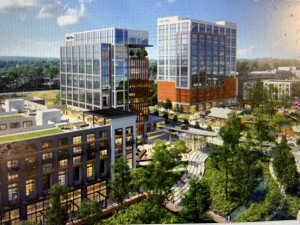 #46 Channel Advisor
#56 Heat Biologics
#68 Novan Inc.
In addition, Morrisville  is home to Cisco Systems (5,000 jobs), Lenovo (700 jobs) Credit Suisse (2,600 jobs), Oracle (500 jobs), UNC Health Care (1,000 jobs), Spectrum (800 jobs), Q2 Solutions (300 jobs), Metabalon (200 jobs), and Synteract (200 jobs).
Microsoft, Syneos Health, and a number of Life Science Companies continue to announce expansions, most recently, Fuji Film Diosynth, whose team was a critical part of Operation Warp Speed.   I was also  involved in introducing the Airport Outlet Mall in Morrisville to Equator Capital Management, whose $31 million purchase of the mall, has resulted in the Stitch, a world class Office Complex, which will be the headquarters to a number of growing companies in the pharmaceutical and life sciences industry.
1. Live and Work in Morrisville!
On any given day, well over 50,000 employees work in Morrisville.   Let's work with Developers to build workforce housing and medium density homes, closer to these work Centers where folks can not only work here, but live here as well.    We can get these folks to live, work and play in Morrisville, dining at our restaurants, connecting to Transit, and walking to work on our greenways and parks!
Partnering with developers can help us get much needed transportation and infrastructure investments while providing the much needed, affordable, workforce housing, which can attract a younger, demographic.   Focus on younger populations will also address the concerns about overcrowding schools.
A recent example of this type of partnership is the Slater Multi Family Project, where Dominion Realty' s public infrastructure investment is around $950,000.00.  (This includes all committed road improvements, The sidewalk on the north side of Slater Road, the multiuse path on the south side of Slater Road, The extension of the public water line, and the extension so the public sewer line (not the portions that serve only our project)
They have committed to a $15,000 contribution for the installation of a traffic light which the TIA found was not recommended for this project and they will contribute $516,120 to the Town's parkland fund.
2. Establish Morrisville Innovation District:  
An Innovation District along the McCrimmon Corridor can include Class A office space, workforce housing, dining establishments (i.e. A Food Hall) and other amenities.  This district, along our Transit Corridor,  will become a connection point for thought leaders in innovative fields including technology and the life sciences within an urban environment, and can at the same time provide for gathering centers in  Morrisville, and promote local and diverse artisans and makers.
3. Technology Incubators:
Establish an Incubator, that can connect entrepreneurs with mentors, resources, and showcase innovation to larger companies (i.e. connecting our entrepreneurs to our larger companies).
4. Mayors Jobs and Innovation Task Force:
Establish a CEO Task Force of Market Leading Companies in Morrisville to Advise the Council and Morrisville Chamber of Commerce on policies, which can lead to continued job growth, recruitment, and retention of Technology, Pharma and Life Science Companies in Morrisville.    I am already shared this Idea with a number of CEOs, and they are very interested in this idea.
5. Sister Cities Program with San Jose, California:
A sister cities program with San Jose and the Silicon Valley area can enable us to reach out to companies and entrepreneurs, who may want to expand or grow operations in Morrisville and the Triangle as we can offer a lower cost of living and a very  high quality of life for our citizens.
6. Crowd Funding Initiative
Crowd Funding Initiative for Morrisville Small Businesses and a Town of Morrisville Small Business Liaison. (More on this on our Small Business Playbook)