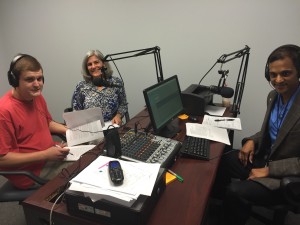 Steve Rao and Jon Lucas, principal of Summit Consulting, LLC, are the proud hosts of a new radio show on WDUR 1490 AM, "Leaders and Legends," which airs every Saturday from noon to 1 pm. Through interviews with elected officials, business leaders, and other influential community members, Steve and Jon hope to engage the growing and vibrant Southeast Asian community on matters of government policy and politics. Interviews will bypass the usual spin and focus on how each guest directly impacts the lives of WDUR 1490 listeners.
WDUR 1490 AM is the largest Southeast Asian Station in the Triangle, with over 100,000 unique listeners per week. Steve and Jon hope to create a show that values the Southeast Asian community as an important part of the ever-changing diversity of the Triangle and encourages their participation in the political process.
Upcoming Shows
October 10th–Steve and Jon are pleased to announce this week's guest on Leaders & Legends: Wake County Commissioner Sig Hutchinson.
Past Shows
October 3rd–Wake County School Board chair Christine Kushner.
September 28th–show introduction, Jon interviews Steve.