November 5 is ELECTION DAY–the last day to vote for the Morrisville Town Council and Mayor. If you have voted already THANK YOU! If you haven't yet voted please mark your calendar. Find out your voter precinct location at: www.ncsbe.gov/voterlookup
Since being elected to the Morrisville Town Council in 2011, it has been an honor to serve you and our community!
I have been working hard on your behalf and in concert with other Town Council members to:
Increase investment in our parks
Accelerate improvements to our state roads
Advance innovative solutions for municipal operations
Make local government more open and accessible to the public
Lead entrepreneurial initiatives for job creation
Strengthen Morrisville's connections to other parts of our region, state and to the world
You can see for yourself my platform and how I have addressed the most important issues of concern to Morrisville residents at: Morrisville Town Elections and on YouTube: https://www.youtube.com/watch?v=4O9Loe7BDIo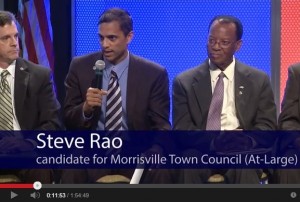 (Steve's portion in this segment starts at 11min. 44 sec. into the YouTube video)
I look forward to serving Morrisville for four more years so I can continue to push forward these and other initiatives in order to make Morrisville the best place to work, live and play!
by