"This will be the cricket capital of the southeastern United States very soon," said Morrisville Town Councilman Steve Rao. The Cary News October 25
The new RTP Park that has been under discussion for several years is now on its way to becoming a reality for Morrisville! I have always been an ardent supporter of this community park and with official cricket fields incorporated into the design, Morrisville will actually be able to attract more tourism from other regions of the country. As a serious tennis player, I'm also looking forward to improving my game on the new courts!
I joined other Morrisville town leaders at the groundbreaking on October 24. Thank you to The Cary News for the great news coverage: Morrisville Breaks Ground on Future Park.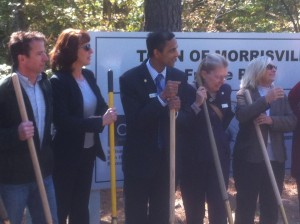 by