My family and I enjoyed the annual Picninc/Cookout at Steve Wilder's house in Knightdale, where we enjoyed the company of many elected officials, and community leaders throughout all of Wake County.
Steve Wilder is such a great friend and role model to many of us around Wake County, who always does his best to bring folks together to celebrate community, and also reminds elected leaders that we are public servants more than just politicians.   Thanks again for hosting a wonderful celebration.
Former Supreme Court Justice, Franklin Freeman read the Preamble of the US Constitution, followed by a beautiful invocation by Senator Dan Blue, and the singing of America the Beautiful.
I was honored to be at this great event, and at the end of the day, we all celebrated how grateful we are to be living in this great nation.
Pictured here with Secretary of State, Elaine Marshall.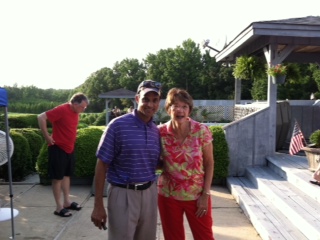 by