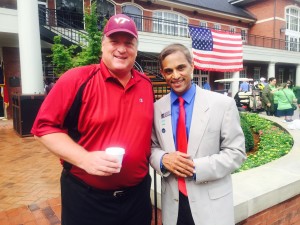 As we cook out, enjoy the beach, Fireworks and July 4th parties, let us also use this day and time, to reflect on the greatness of our nation, and the true meaning of American Independence Day.
WE HOLD THESE TRUTHS TO BE SELF EVIDENT, THAT ALL MEN ARE CREATED EQUAL, THAT THEY ARE ENDOWED BY THEIR CREATOR WITH CERTAIN UNALIENABLE RIGHTS, THAT AMONG THESE ARE LIFE, LIBERTY, AND THE PURSUIT OF HAPPINESS.
The power behind the words of this Declaration of Independence are beyond imagination.
In her book, Regenration, futurist Rebecca Ryan reminds us that America's founders saw religious intolerance and lack of social mobility as unjust. They embraced the American enlightenment's revolutionary idea that all people are created equal at birth. This may not seem like a big deal to us now but at the time, this was a mind blowing idea and ran counter to every traditional government and religious structure. It is the central principle on which our country is based, and one for which thousands of our bravest citizens were willing to die. (Regeneration, Rebecca Ryan, p 19)
July 4th  should symbolize and renews our faith in freedom, our devotion to democracy, and inspires each of us to redouble our efforts to keep a government of the people, by the people, and for the people truly alive in our world.
Finally, we pray for the bravest heroes of our nation, our soldiers, who every day, through their sacrifices, prove that the United States of America truly is the Land of the Free and the Home of the Brave.
by